Starting an Arcade Business in Singapore: Best Games, Machine Rentals & More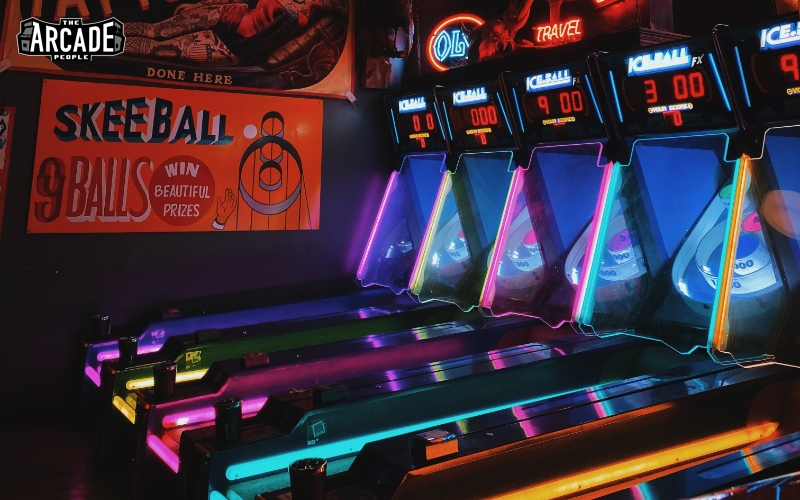 The gaming industry had experienced a significant boom in recent years, especially during the COVID-19 pandemic when people played video games more often during isolation. As the world slowly heals and returns to normal, Singapore has also been jumping on the bandwagon by hosting esports tournaments and local tours for esports enthusiasts. 
In fact, Singapore's gaming market has been projected to be worth $138 million by 2024, a telltale sign that both the country and its citizens are embracing gaming and that there is a demand. 
Although at-home consoles for video gaming such as the computer, PlayStation and Xbox provide greater convenience and a more comfortable gaming session, they can result in an isolating experience over time. 
This is where arcade machines come into play! Before online gaming gained popularity, arcades can be said to be the pioneers of video gaming. They became popular in the 1970s and 1980s, so they seem like something of the past. However, you may be surprised to find out that the arcade industry is still thriving all around the world, and even in Singapore! 
The wide selection of both single and multiplayer arcade games allows people to choose between staying in their comfort zone or bonding with their friends and family. Additionally, the arcade is always nicely decorated and has loud and upbeat music playing to form an exhilarating ambience that one cannot get at home. Most importantly, the various childhood arcade machines will bring back fond memories and make it an addictive experience that will keep people coming back for more. 
So if you are planning to start an arcade business in Singapore to explore this option of generating income or simply to realise your dream of being your own boss, here is what you need to know. 
Keep reading to find out more. 
Part 2 – All You Need to Know About Arcade Games
2.1 A brief history of arcade games
Most people know that arcades and arcade machines have existed for years, but not many know that it has a long history that dates back decades ago. 
The arcade gaming scene started as early as the 1930s with coin-operated pinball machines. As time passed and technology advanced, arcade games started becoming more fun by the 60s and by the 70s, games like Pacman (which many of us are familiar with even to this day) became all the rage. 
Then came the 80s when better technology surfaced and arcade machines could offer improved graphics and a variety of ways to play – motion-controlled arcade racing games became some of the more prevalent ones. In the 90s, competitive fighting games like Street Fighter 2 came out and reignited the passion people had for arcade games once again. 
As years went by, more and more popular games like Dance Dance Revolution and air hockey table popped up, further solidifying the popularity of arcades in the 2000s. 
2.2 The best arcade machines
Alas, with so many arcade machines available on the market in Singapore, only some managed to retain their popularity while others got overshadowed by up-and-coming ones. 
Before you start your arcade business, it is important that you choose the right arcade games to attract more customers which will help to increase your profits in return. Not sure how? Consider bringing in nostalgic arcade machines that will take your customers down memory lane or some timeless games that will never go out of trend. 
Old but gold arcade machines Singaporeans will love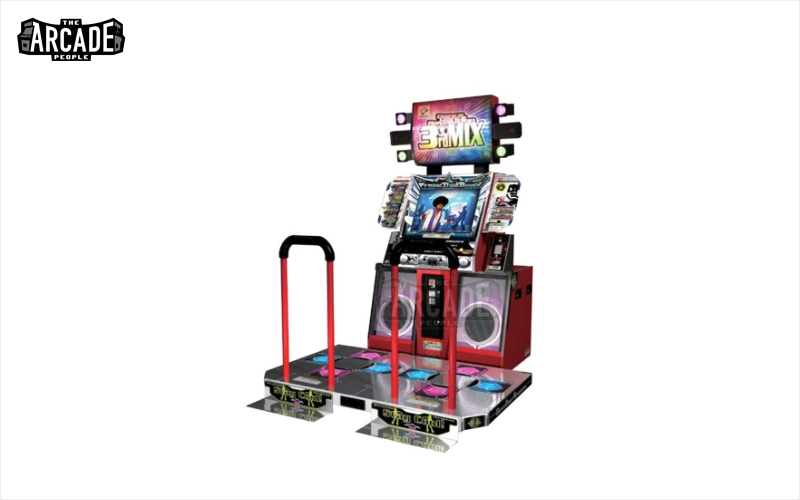 One of the most iconic games to exist, Dance Dance Revolution is a must-have at any arcade! Bright lights and catchy tunes, coupled with the need for crazy footwork and a sense of rhythm to get a perfect score will keep customers coming back for more. It is also probably the only arcade game where spectators experience as much fun as the person playing it, just from watching. 
With straightforward gameplay, all gamers have to do is smash the six buttons and move the joystick around to emerge champion. While it is easy to play, thrillseekers will still enjoy the exciting moments of trying to survive for as long as possible until the opponent taps out. 
Time Crisis 4 is a type of shooting arcade game equipped with faux guns for a more realistic and interactive gaming experience. Customers will get to channel their inner James Bond and feel as if they are starring in a movie!
This arcade racing game will get your customers' adrenaline pumping as they frantically manoeuvre the steering wheel and gearstick, reminding them of the days they tried 'driving' without a proper license. 
Learn more: 7 Arcade Games Singaporeans Love That Will Amp up the Nostalgia
Arcade machines that will stand the test of time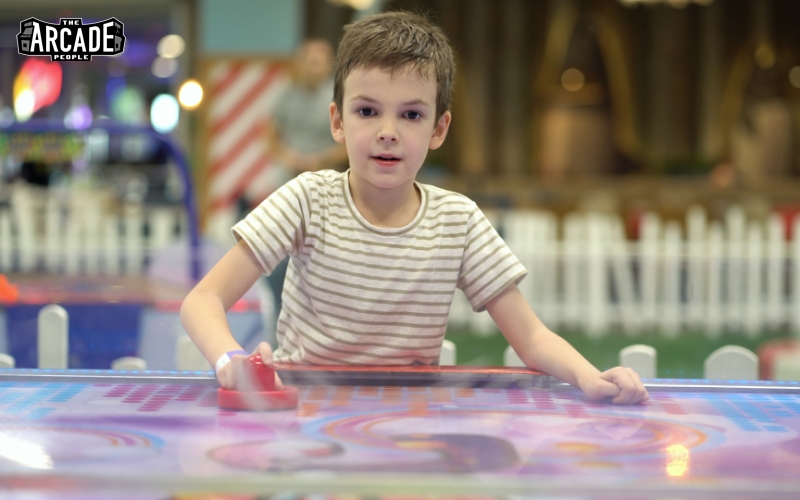 Air hockey tables are staples at most arcades, so it is not an understatement to say that this is a timeless game that both young and old will enjoy for years to come. The bright lights emitting from the table attract attention from a distance, while the anticipation from waiting for the puck to emerge put both players and spectators on their toes. 
B-ball enthusiasts will love arcade basketball machines, the perfect game to show off their impeccable shooting form without having to sweat it out in the hot sun. 
The claw machine is a must-get item even though it is not a video game and more of a carnival game. The challenging aspect of using sheer determination and a pair of steady hands to capture the prize encourages customers to keep trying again and again. 
Unlike the claw machine, a capsule machine utilises a 'sure win' approach to entice more customers and can act as an incentive to get more people to return to your arcade. 
While these are some recommendations to consider, there are many other arcade machines in Singapore with different gameplay and fun levels to sift through as well. A rule of thumb is to do your research and check out how your competitors are faring to help you make informed decisions. 
2.3 The benefits of playing arcade games
Although arcade games have taken up a portion of our childhood and brought joy to many, did you know that these popular games were once banned in Singapore due to parental concerns over addiction? Thankfully, the ban was lifted eventually and the younger generation now gets to experience the same fun as we did back then. 
Of course, too much of anything is not a good idea but when played in moderation, arcade games can offer various benefits too. So if you are still on the fence about starting your arcade business, these benefits will change your mind and convince you that this could be a lucrative venture. 
1. Improve muscle memory and reaction time
Shooting and racing arcade games require hand-eye coordination which will help to develop muscle memory and train reflexes. This can be useful in many day-to-day life activities, like driving and cooking. 
2.Enhance analytical abilities 
Games like Street Fighter involves knowing the right time to strike and having the ability to strategically move the joystick while smashing buttons at the same time. As such, it boosts one's analytical abilities like decision-making and multitasking skills. 
3. Reduce stress
Like online or mobile gaming, going to the arcade and playing games can help to reduce stress too. This encourages work-life balance and has a positive impact on one's mental health. 
4. Encourage bonding
Various multiplayer arcade machines like air hockey encourages bonding between family and friends, bringing them closer together. Arcades are also family-friendly, with games catering to both adults and young kids. 
Part 3 – Setting up an Arcade Business in Singapore
3.1 Pros and cons of starting an arcade business in Singapore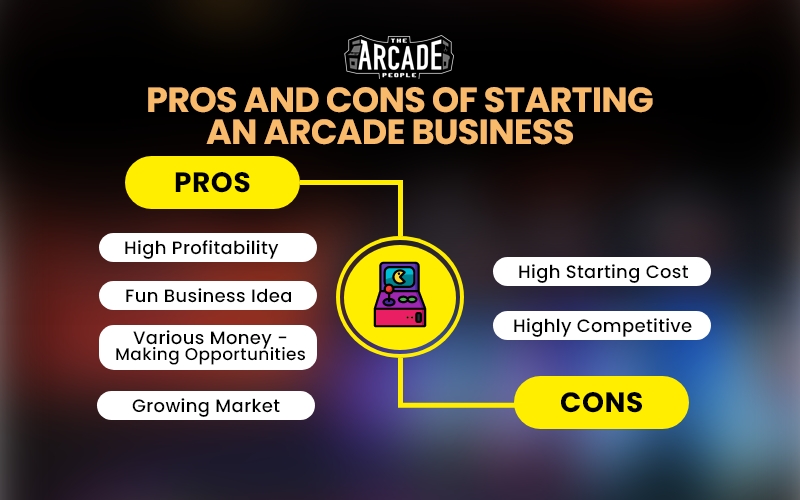 With a better understanding of the best arcade machines and benefits, the next step is to evaluate the pros and cons of starting an arcade business in Singapore. This will help you to decide if setting up an arcade is right for you. 
Advantages
With the right arcade machines, a good location and appropriate marketing strategies to help you stand out from the competition, an arcade business could yield high profits. Its simple business model also makes launching and building the business less challenging. Additionally, a typical arcade's target audience ranges from young to old, giving you more opportunities to build a large loyal customer base that will translate into more profit. 
If you have always wanted to run your own business but are not a fan of mundanity or all things serious, then starting an arcade business might just be the best option! Due to the nature of your business, there will never be a boring day at work when you get to see your customers' faces light up while playing games. Apart from being a fun business idea, it is also rewarding work when you resolve an issue like machine breakdowns or surprise your customers with a big prize. 
Various money-making opportunities
Other than just making a profit from arcade machines, setting up an arcade will also provide you with various money-making opportunities to help grow your business quickly. For instance, the venue can be rented out for events or parties while models and photographers can choose to use your venue, decorations and machines as a backdrop for photoshoots with a fee. 
Arcades are perfect for families, couples, students and friends who are looking for a casual hangout activity. Thus, the arcade industry is a growing market with endless possibilities. 
Disadvantages
Despite being a business venture that offers high profitability, it cannot be denied that setting up an arcade will require a substantial investment. Arcade machines are quite costly because they are not mass-produced, use intricate and complex electronic circuitry and are quite rare and antique. Hence, an alternative would be to opt for an arcade machine rental in Singapore which will cost less than buying to help you tide through the initial phase of starting your business. 
Renting a suitable space and paying for renovations will also add to the overall costs. 
Highly competitive industry
Arcades are a dime a dozen in Singapore – think Timezone, Cow Play Cow Moo and many other well-known names. Setting up an arcade is easy but staying afloat amongst the tough competition is going to be harder. 
But there is no need to let the disadvantages hold you back from turning your dreams into a reality! The pros of launching your own arcade will certainly outweigh the cons with the right preparation and business strategies. 
Furthermore, there are some ways to make your arcade stand out and maximise profits. 
3.2 Ways to make your arcade business more profitable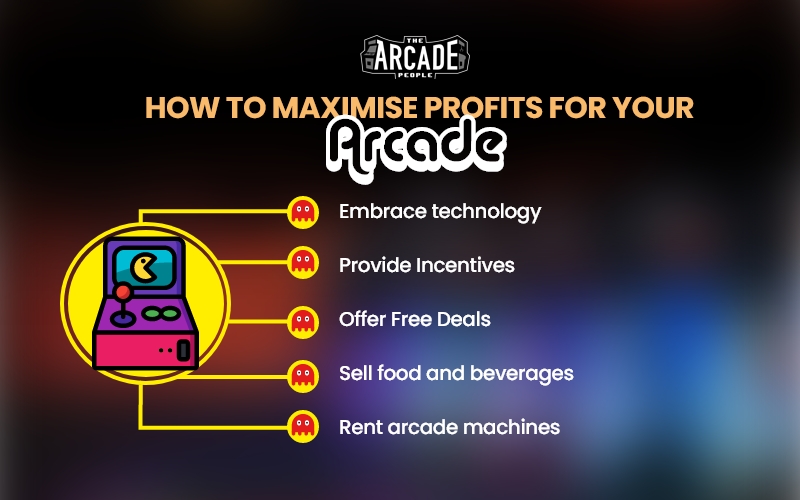 Here are some viable ways to increase profits for your arcade businesses: 
Instead of utilising outdated methods like inserting coins into arcade machines to get them working, it is important to embrace technology to make gaming more accessible. Using a points-based system in which customers top up a card and credits get automatically deducted with each tap is a better option. Cashless methods will benefit your business as this essentially means that customers without cash on hand do not have to be turned away and can still play the games they want. 
Most arcades allow customers to collect tickets that can be used to redeem prizes like stationery and soft toys. This is a classic method of boosting arcade profits but keep in mind to offer attractive incentives that will motivate people to spend more. For example, dining vouchers, board games and figurines are some popular options to consider. 
Singaporeans love free things so what better way to entice them than to offer complimentary plays or bonus points? These deals can be given to customers who purchase a certain amount of credits so that they will be motivated to spend more money. 
Another tried and tested way of maximising profit is to set up a cafe or snack corner where customers can purchase food and beverages to indulge in while gaming. This is a great way to make them stay longer, which will translate into higher profits for your business as well. 
Alternatively, consider renting arcade machines instead of buying them so that you can save some money upfront which can be used on other aspects of your business. 
3.3 Why renting arcade machines is better than buying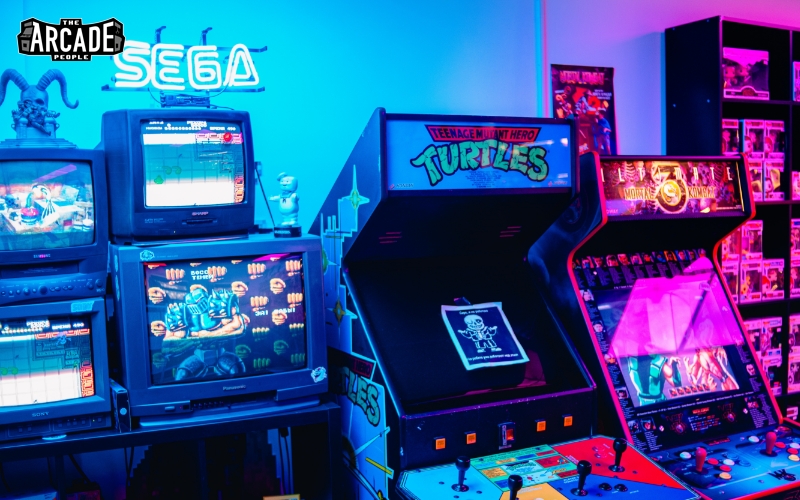 While most business owners aspire to purchase their own arcade machines, the high costs are often a deterrent. Thus, choosing arcade machine rentals might be a more feasible option, especially when first starting out.  
Here are some reasons to opt for renting instead of purchasing: 
1. Greater flexibility
Since trends come and go quickly, purchasing arcade machines may leave you stuck with games that people are no longer interested in a few years down the road. Renting, on the other hand, allows you to let go of games anytime you want and be constantly on the lookout for trendier and more exciting ones without having to fret about insufficient space on your premises. 
2. Cheaper upfront
Renting is also a more affordable option since the money you will have to fork out upfront is significantly lower than purchasing. The money saved can then be used to help you run your business as planned, before making the decision to purchase your own arcade machines once you have made enough profit. 
3. Hassle-free process
Renting is a hassle-free process as you will not be responsible for the maintenance and servicing of the arcade machines – the owners are required to upkeep their property themselves. There is no need for you to burn a hole in your pocket on repairs in the event of a machine malfunction or breakdown. 
3.4 Frequently asked questions about setting up an arcade and machine rentals 
Ready to choose arcade machine rentals in Singapore to set up your very own arcade? Take a look at some of the frequently asked questions and their answers to gain clarity for any doubts you may have before proceeding. 
1. Are there any regulations to adhere to when setting up an arcade in Singapore? 
It was reported in 2021 that mystery boxes, arcade games and claw machines could soon come under government regulation due to the blurring lines between gambling and gaming. The Ministry of Home Affairs had proposed to introduce a prize cap of S$100 to reduce the inducement effect of prizes with high value. Although these new proposed regulations have not come into effect, it is still crucial for potential arcade owners to take note of them so that swift decisions or changes can be made without causing unnecessary downtime for the business. 
Additionally, there are some guidelines to comply with when operating an arcade or amusement centre:
The minimum size of your arcade is 120 sq metres 

You must submit a list of proposed game machines stating the name, description, the number of units and the floor area occupied by each unit to the Licensing Officer

Video games must not occupy more than 50% of your floor space 

Your arcade must have one or more of the following features:
(i) stalls selling items such as soft toys and books connected with recreation
(ii) non-video games such as pinball machines or soccer tables
(iii) children's play area
(iv) stage for animated shows
2. What are some key considerations?
It is essential to develop a theme that fits your target market – are you looking to attract older customers with nostalgic arcade machines or encourage bonding between family and friends with more multiplayer games? This influences the type of games you will ultimately offer and how you can utilise the space wisely. 
You will need to define your brand through marketing as well – social media ads are great for targeting the younger crowd while offline advertising in malls could target people who frequent the area, for example. 
3. Will I have to set up or assemble any of the arcade machines on my own?
The best part about arcade machine rental is that delivery, setup and assembly are usually included in the cost so you will never have to be left on your own to handle something you are not familiar with.
4. Do I need a licence to run an arcade?
Yes – under the Public Entertainments Act, any organisation that wishes to provide public entertainment in any place accessible by the general public must obtain a licence. You may apply for an establishment licence which is valid for one year, under Type A, B or C with varying operating hours. 
To apply for a licence, you need to be a Singapore citizen, a PR or possess a Foreign Identification Number. You must not be convicted of any offence and be a Director, Partner or Sole Proprietor of the business as registered with ACRA. 
Make sure to only commence renovation works and purchase or rent the arcade machines after obtaining approval, as such investments will not be regarded as grounds for the police to grant your application. 
Rent your arcade machines from The Arcade People
The Arcade People is your one-stop place for arcade machine rentals to help you kickstart your business. Select from our wide range of arcade games ranging from nostalgic ones like Street Fighter to new and upcoming ones like Atari Pong Table. 
With years of experience in the industry, you can be assured that our team only provides the highest quality of service and products that will assist you in running your business smoothly. 
We take care of delivering, maintaining and servicing so all you have to do is concentrate on running your business.
Apart from offering arcade machine rentals in Singapore, we also provide consultation services to people looking to set up an arcade or incorporate an arcade game centre into their existing business.